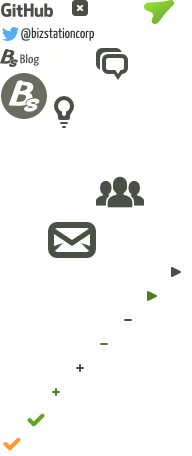 BizStation Corp.
BizStation Corp has been developing sales management systems since its establishment in 1994. We have improved our business performance mainly in consulting and support operations.
Our mission is to provide advanced business solutions. This solution is for the purpose of "being a useful tool for your business" It is in.
And that philosophy has been passed down to new products. Advanced sensor technology Drogger series that combines GNSS and software technology. We will grow as a company that is useful for professional work, such as launching the centimeter-class GPS for consumers for the first time in Japan.
Company Name

BizStation Corp.

Founded

May 1994

Capital

10 million yen

Sales

370 million yen (2021)

President & CEO

Hisashi Yaguchi

Business

Develop and sell softwares for Sales management and Financial accounting.
System Consulting.
Development and sales of IoT devices

Main Customer

Corporate, university, and government GNSS users.
Snap-on Tools K.K Japan and franchisees

Major Financial

Hachijuni Bank Minami Matsumoto branch

Head Office

Matsumoto City, Nagano Prefecture Igawajo 3-1-5

Number of Employees

12 (March 2021)